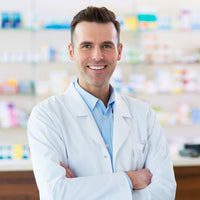 Reasons to offer the Green Vial Option
As a pharmacist, the Green Vial option has many advantages for your business
1. First, it helps you decrease significantly the plastic waste caused by your activity. Hundreds of millions of vials are used in Canada every year.
2. The Green Vial option generates financial economies for your business.
3. It positions your pharmacy as a leader in your community on the environnemental actions which increases the satisfaction of your patients and employees.
Be part of a strong movement that is followed by medias (Television: Citynews, Salut Bonjour, V tél. Radios: CBC, 103.3, Journaux: Cover of the 24h, Huffington Post, TVA nouvelles, La Presse) and followed by the population.
Let's work together and make a difference in each one of our communities regarding the most important challenge of our generation.